4AM Gallery Installation
Workshop, 2011.
Paradoxically, voids can create high density. The Glacis (protective areas around fortresses), the Green Belt (the ring of vegetation surrounding London) or the Sky Planes (surfaces defining the incidence of light onto the streets in New York) are all artificially defined volumes of emptiness that concentrate cities inside forms prescribed by law. The disappearance of void control leads to sprawling suburbs and exurbia. Only in a compact city does a subtractive urbanism work: shrinking and taking away, rather than adding and growing.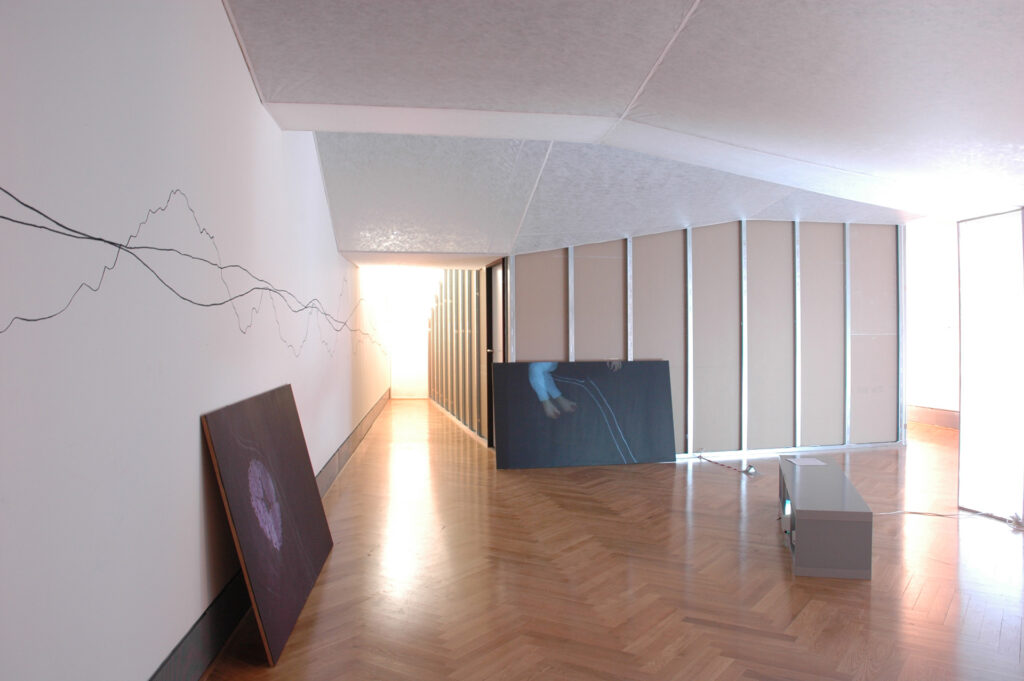 In the 4AM Gallery, we are testing a surface conceptually similar to the zoning envelopes of cities. It is an almost immaterial wrapper that nevertheless changes the homogeneous character of the exhibition space. It defines empty volumes and catches all the light sources on one of its sides. It creates a "lightscape" that reacts contextually to the white box of the gallery (fine arts) and to the black box of the previous intervention (performance arts) by inserting a sort of "light box" that can be crossed in a few points. The installation is an instrument, testing the reaction of the upcoming unpredictable interventions to the modified potential of the gallery space. It may start a fight for light.
| | |
| --- | --- |
| Place | Brno, Czech Republic |
| Client | 4AM Gallery |
| Stages | Academic workshop, 2011 |
| Program | Culture |
| Partners | Vito Halada |
| Participants | Anna Cséfalvay, Barbora Perichtová, Dominika Belanská, Dominika Šišková, Eduard Herrmann, Jana Džadoňová, Lucie Tomaštíková, Marianna Maczová, Veronika Trnovská, Jana Kamírová, Petr Jakšík. |